Drilling type jet suction dredger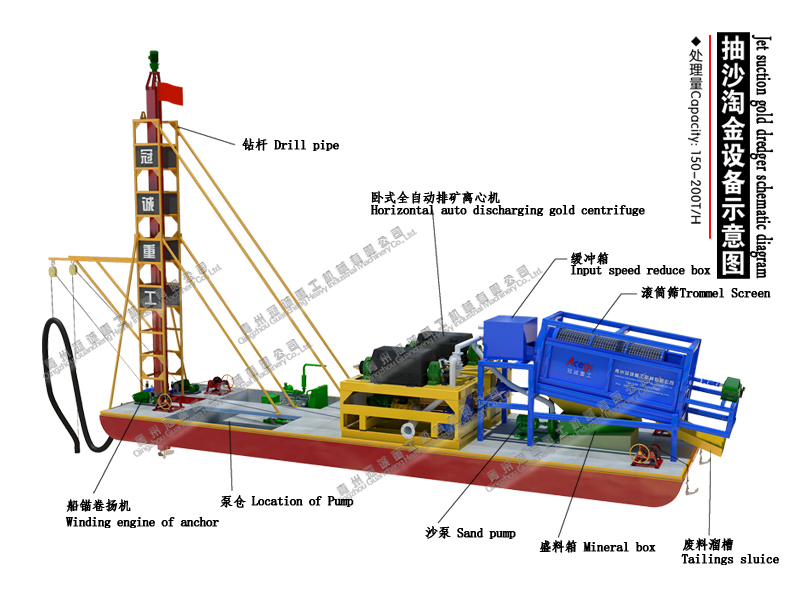 Introduction
The machine is drilling type jet suction sand dredger, according to customer's requirement manufactured by ourselves,with high recovery,seldom breakdown and very popular in abroad,the advantage:
1.The feeder of trommel screen by input speed reduce box,and with good performance of water supplying system to be wholly washed.
2.Including 2set of horizontal type auto discharging centrifuge,plc control and with highly efficent work,it's steady no need placed with ground level(vertical type centrifuge cannot be used in portable unit)
3.High recovery of above 90%
4.Seldom breakdown and easy maintenance.
Technology Process
The mineral mixtures are sending to input speed reduce box to reduce the pressure and speed by sand pump,then getting into trommel screen to be separated to 2size,the big and small,the big one of useless is directly get rid by tailing sluice to scrap area.
The small one getting into the Mineral box and getting to 2sets of horizontal auto discharging centrifuge by sand pump to be separating to get the concentrate.
Detail parameter
Production

Specifications

Quantity

Power

Remark

Pontoon

Size(L*W*H)20*5.5*0.88m,Steel thickness 4mm
CHeckered plate thickness:3.5mm

1Set







Location of pump

Length*width:4*3.6m

1Set







Main frame

Height:9.6m,Width:1m,Material Ø89 seamless tubing

1Set







Drill pipe

Length:13.2mCycloid pin7.5Kw motor

1Set

7.5kw




Winding engine of drill pipe




1Set

11KW




Rising wind engine




1Set

4.4kw




Jet suction pump

8inch diesel pump

1Set







Water pump

6inch

1Set







Winding engine of drill pipe

350#reducer Motor:11KW

1Set







Rising wind engine

Motor:2.2KW

2Set







Anchor

handling

4Set







The frame in pontoon

Material:63*39unequal angle steel

1Set







Centrifuge

1200#horizontal type auto discharging

2Set

43kw




Trommel screen

Inner diameter1.3m,outside1.6,
Length of trommel screen3m

1Set

7.5KW

including input speed reduce box

Sand pump

6inch

1Set

15kw




Total power

88.4KW