River gold dredging(suction pipe) boat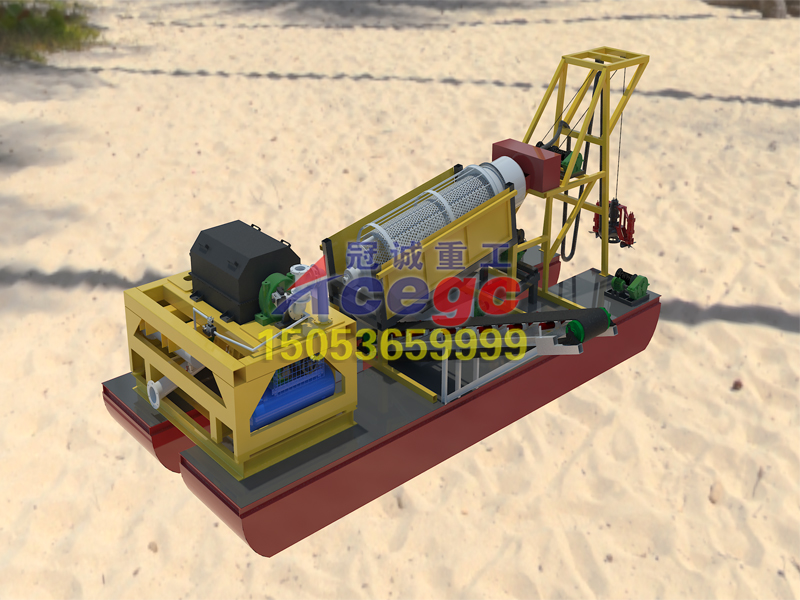 【Introduction】
This set of river gold mining plant,raw material work capacity 100tph,the depth of suction is 5-10m and can be custmized according to worksite environment.It's effective and good performance to gold particle(including invisible tiny gold)with high recovery.It's design with smart strcure and low maintenance,details as below:
1) Feeding system
The feed type with cutter head and into speed reducing box for further process.
2) Classifying system
With Chain driving device,the energy can be well distributed and with high efficency ,with low consumption of electric power.
Inner screen maufactured with punching process,including reamers all over the trommel and fully washing and getting rid of the clay,with high effiency;
3) The water system with central+2sides water supplying,central water supplying to wash the material in the bottom of the trommel screen and the 2sides to flush the outer screen mesh.
【Gold Selecting System】
With one set automatic discharge concentrator to get the gold concentrate,automatic discharge by PLC control and comparing with traditional concentrator:



Horizontal centrifuge concentrator

Vertical centrifuge concentrator

The system

PLC control

Handling control

Discharging

Automatic discharge

Handling discharge

The shaft

Horizontal(shaft 2sides fixed)

Vertical(bottom side fixing)

Working

Long(working life)

Normal(working life)

Installation

No need seeking ground level

Need seeking ground level

Feeding

Sand pump(easily control the feeding concentration
30%)

By gravity feeding(can't control the feeding concentration)

Recovery

Above 90%

70%

Application field

Good performance in jolting surrounding such as mobile
mining equipment,dredger etc

Can't work in jolting surroundings.

Model of biggest capacity

1200# or bigger capacity can be customized

80#
【 Technical process】
Sucked by the cutter head pump the raw material into speed reducing box to get a steady movement and then into trommel screen to be classified into 2 size,the big one>6mm,the small one≤6mm the big one >6mm useless to get rid to scrap area;
The small one into gold concentrator by sand pump within the mineral box,the concentrate can be automatic discharged into concentrate box,waste material to get rid to scrap area.
【Detail Specification】

Production

Parameter

Quantity

Power

Remark

Pontoon

Single width 2m,height 0.97m,total length 11.5m,board thickness 4mm,checklerd,bottom board thickness 6mm

2Pcs

-







Trommel screen

Inner dia.:1m,outer dia.:1.3m,Length of screen mesh 3m, ahead reamers trommel 1m
Including reamers all over;
Inner screen mesh with 10mm iron board punching
Outer screen with 6mm tear type mangnese screen mesh
The hopper for classified material:6mm board

1pcs

7.5




Gold concentrator

Automatic discharge type

1set

21.5




PLC control

Main suction pipe

4inch two sets,1 set with cutter

1set

15

The connecting pipe with rubber steel wired hose

Sand pump

4inch sand pump+11kw motor+mineral box

1set

11

To feed the concentrator

Transport conveyor

Belt width 600mm,pole length 6m

1pcs

5.5




Winch of the pump




1set

3




Main anchor




1pcs

5.5




Anchor sheet




4pcs

3 KW*4




Electric box




1set

-

Excluding cable

Total power




About 80KW(Excluding submerged pump)