River ladder bucket chain gold dredger plant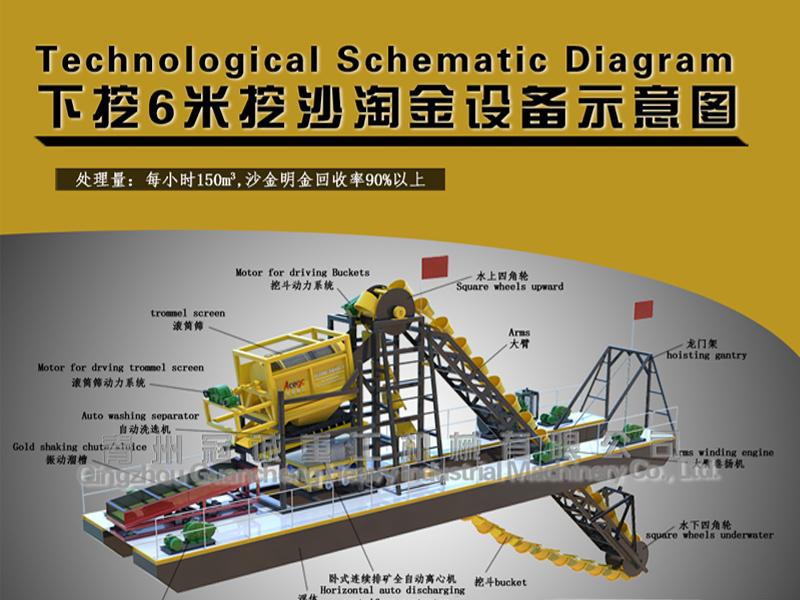 Gold dredger technological process
The mixture from bucket moved by wheels under and upaward water to trommel screen then separated to 3sizes material:≤6mm,6-2cm,≥2cm,the biggest which useless are directly getting rid to the river.
The material≤6mm from the auto wash&separating machine to be separated 2 types,the one higher in gold then sending to 80#horizontal auto discharging centrifugal contrator to resparate,the tailings discharge to the box,the one low in gold are sending to shaking chute.
The material 6-2cm go through the screen then also washed to shaking chute to separate,then scrap material are sending out of the dredger.
Gold dredger detail parameter
Production Name




Specification

Quantity

Power/KW

Remark

Pontoon

Single width:1.8M Height:0.92m Length:23m

1set

-

Gold dredger pontoon

Bucket type gold dredger

Main gantry:5.6m Double 16# U steel
Length of Arms under water:16.5m 12#/10#Usteel
Bucket:80#total60pcs
Chain:high manganese steel
Reducer:850#

1set

37KW-6

Gold dredger bucket

Trommel screen

Trommel screen Length:3m Inner dia.:1.3m
Outside Dia.:1.6m
Gantry:15#square pipe steel

1pcs

11

Gold dredger classifier

Auto wahsing separator

60#

1pcs

2.2

Gold dredger concentrator

Horizontal centrifugal contrator

Auto discharging Model 80#

1pcs

7.5

PLC control

Gold dredger concentrator

Gold shaking chute

1500*4500

1pcs

3

Gold dredger concentrator




Arms winding engine

400#Speed Reducer

1pcs

11

Gold dredger

Main Anchor

350#Speed Reducer

1pcs

3

Gold dredger




Winding engine of Anchor line

3KW

4set

12

Gold dredger




Water pump

7.5KW

1pcs

7.5

Gold dredger




Centrifugal Pump

7.5KW

1pcs

7.5

Gold dredger




Total Power

At begining of work need power 101.7kw,working time75.7kw(not including lights power,advise to use generator set 150kw