Capacity 30-50tph movable/mobile gold separating plants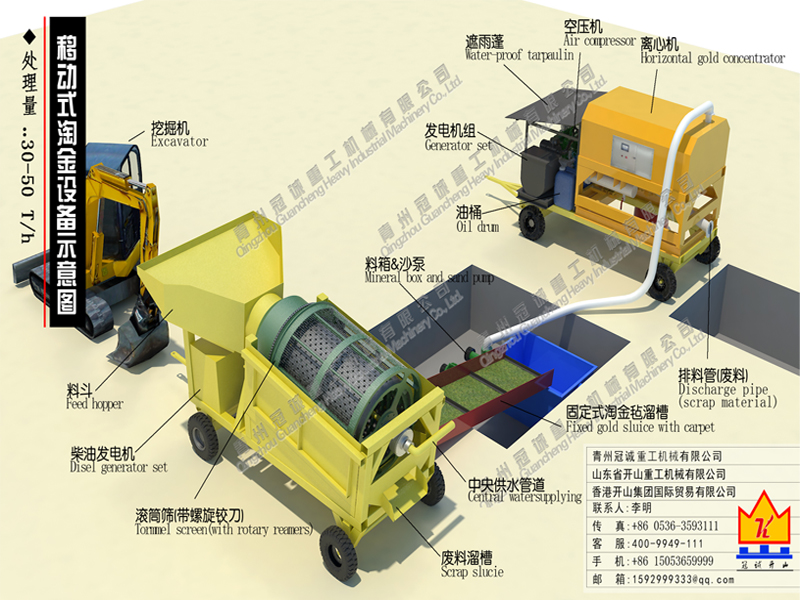 Technical process of gold Mining Machinery T
he material get into feed hopper from excavator then to be swilled into trommel screen with rotary reamers by high pressure water to get rid off the clay,to be classified into 2size,the one in big size is useless directly to be get rid to scrap area.
The one in small size get into the fixed gold sluice with carpet to separate the gold nugget,then flow into mineral box to be sending to horizontal automatic discharge gold concentrator by sand pump,the concentrate to be discharged into concentrate box,the scrap into the scrap pool.
Detail parameter of gold Mining Machinery
Production

Specification

Quantity

Power

Remark


Movable trommel screen separating car

Feeding size : dia.≦200mm
Power :2.2Kw
Reducer: 250#
Water pump : 7.5Kw
Wate pump
Water needed : 100m3/h
Generator set Diesel 20kw
Trommel screen: with rotary reamer
Inner diameter1m,outer diameter 1.3m
screen mesh 1.5m
Tyres 4pcs solid tyres
Min radius of turning circle
Driving speed:≦15Km/h



1set

9.7KW


This movalbe trommel screen separating car including 1set 20kw diesel generator set,1pcs 4m length fixed gold slucie with carpet,1set 7.5kw water pump.

Production Name


Specification


Quantity


Power


Total


Centrifugal separating car

Gold concentrator


60#horizontal automatic discharge type

1set

5.5


Base plate


Including holding frames tyres etc.

1pcs

-

Air compressor

1set

3

Centrifugal pump

1set

5.5

Generator set

50KW

1set

-

Sand pump and mineral box

4inch,including 15m pipes

1pcs

7.5

Power

21.5KW
QingzhouGuancheng heavey machinery industrial co.,ltd is a famous for our Gold mining machinery,Knelson series centrifuge,Gold gravity separating equipemnt,Alluvial gold separatting device,Gold water separating machine,Centrifugal concentrator,Gold dredger,we can provide type of mining solutions and any requirment of you pls contact us freely.
Address:Xijiande Village huanglou office,Qingzhou city,Shandong province,China
Email:admin@guanchengzhonggong.com
Mobile phone:008615653473333/13406472759
TELL/FAX:0086-536-3593111