Capacity 1-3tph gold centrator solution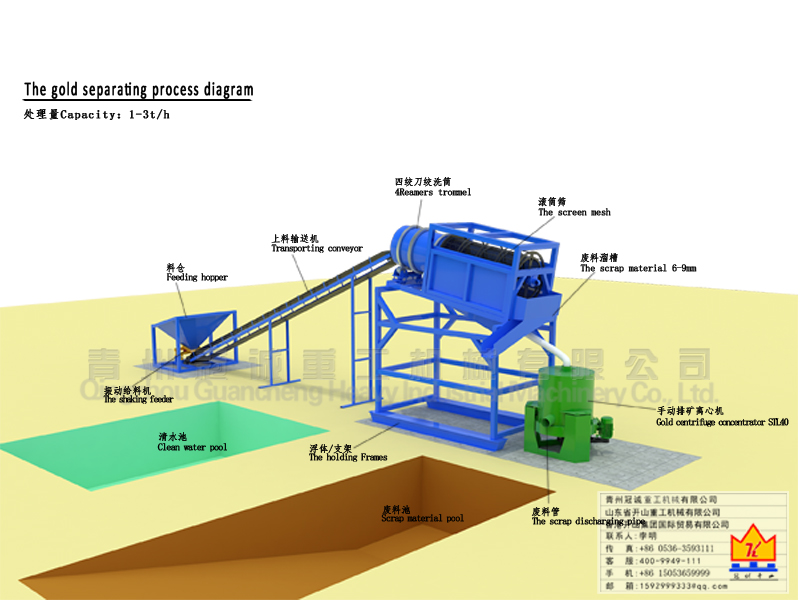 Brief Introduction
Gold Mining Machinery introduction
This set of Gold Mining Machinery designed by our company according to customer's requirement,the capactiy is 1-3ton/hour,it works in good performance and in high recovery low failure easy maintence and the main advantage:
1).The shaking feeder under feed hopper to prevent the clogging of material,and make the material well-distributed.
2).The trommel screen with 4reamers a good result in claying ore
3).Guancheng Trommel screen using central and two flanks water supplying system,the central water supply to swill the inner material of screener,the two flanks water supplying system to clean the outer screen mesh to prevent to material clogging.
4).Gold centrifugal concentrator using handling discharge STL40,it works efficently and can reduce the cost.
Gold Mining Machinery machine technical process
The mineral mixture in size 0-9mm going into feed hopper then well distributed by shaking feeder to be transported with conveyor to trommel screen,the into reamer trommel to cut the clay and water rushed then going into screen mesh material to be classifier into 2 size 0-6mm and 6-9mm,the 0-6mm material going into gold centrifugal concentrator to get gold concentrate,the6-9mm material are getting rid into scrap material pool.
Gold Mining Machinery deatil parameter
Production Name

specification

Quantity

Power

Remarks

Feeder hopper

3000*2000mm

1pcs

0.25

Including shaking feeder

Conveyor

Belt width600mm,pole length13m

1pcs

5.5

Electric roller

Trommel screen

Length:4.5m
Screenmesh:3m,inner diameter:1.0m,outer diameter:1.3m

1set

7.5

Holding frames

15#square pipe

1pcs

-

Unit of trommel screen

Gold centrifugal concentrator

STL40 handling discharge type

1set

7.5

Centrifugal pump

1set

11

Water pump

1set

7.5

Water hose for water pump

1roll

-

20m/roll

Iron pipe for centrifugal pump

30m

-

Electric cabint

1set

-

Including the electric wire to machines

Total power

39.25KW