The shaking slucie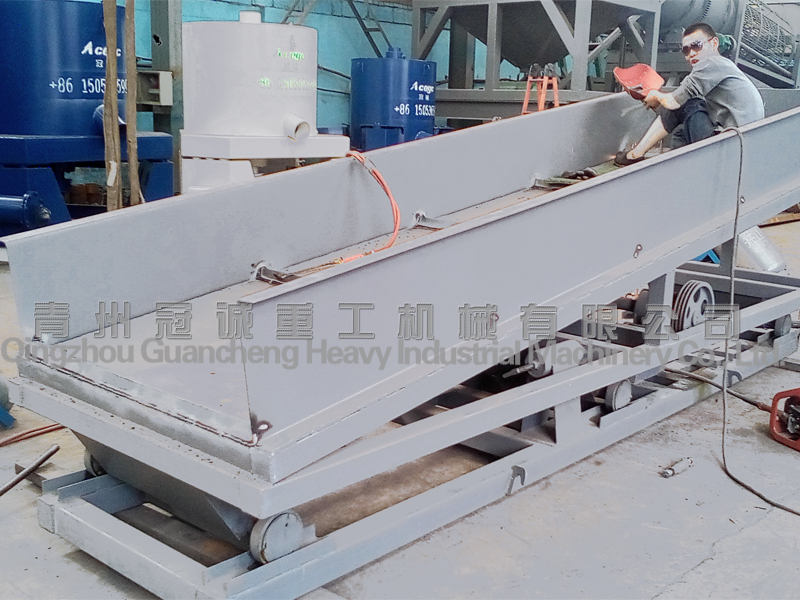 1.Description of Gold shaking Sluice for Gold Mine
The gold shaking sluice, also called instigatingsluice box or vibrating sluice box is a kind of gravity concentrator for gold, rare metal and metalic minerals. Guancheng brand gold shaking sluice is powered byelectric motor, the voltage of which could becustomized according to customers' industrialelectric voltage.
There is a set of instigating mechanism which can move the rubber plate between the riffle and the instigating mechanism. So when the slurry flushes on the sluice box, the lighter sand and silt will be washed away by water, and the heavy gold sand will fall down and stay on the rubber plate.What's more, the small holes on the riffles will form small vortexes which help to let the heavy minerals like gold fall. Our gold shaking sluice is very easier to operate and much cheaper than the centrifugal concentrator. It is less restricted by the terrain but much more efficient than the normal sluices with gold capturing carpet.Our gold shaker table is also designed for anti-theft purpose. The steel wire above it could prevent the loss of gold concentrates to someextent.
2. Features of Gold Vibrating Sluice for Gold Mine
he clay will not be deposited in the carpet which is different with normal fixed gold slucie.It's difficult for the normal slucie to slow the water speed, if the fluidization of water is lower, the slurry will be easily deposited in the carpet. Most of the normal fixed sluice is built in a big slope, so the water speed is fast.The shaking sluice is with vibrating function, so the clay will not be deposited. And it's no need to build in a big slope, so the water speed can be lower so that the fine gold and flake gold will go down easily.
High recover rate and low price To compare the normal sluice and shaking sluice, normal sluice is with good recovery rate.
Due to high recover rate and low price, shakine sluice is more and more popular in gold mining market. More and more gold mining company disuse old fixed normal sluice and buy gold jerking sluice.